Though teaching is clearly the core focus, every educational institution is, in fact, a business. And like any other organization, they require effective project management (PM) processes to push initiatives forward. So while their goals and objectives may be unique to the rest of the business world, their workflow needs are not.
Here, we delve into some of the most common organizational challenges educational institutions face and the ways — again, like any other business — their workflows can be transformed with smart project management and the adoption of best practices to improve scheduling, planning, time management, collaboration, and communication.
PM challenges in education
Project management challenges in the education sector are unique due to their organizational structure alone. With numerous departments, professors, students, and often multiple campus locations, coordinating efforts and maintaining project schedules can prove difficult.
Yet many institutions remain hesitant to adopt a business approach to project management, citing the following roadblocks:
Inadequate time
Lack of planning
Budgeting constraints
Diminished human resources
Inability to respond to change rapidly (e.g., moving to online learning during the pandemic)
Uncertainty in how to measure success
Lack of translatable technology for educational institutions
Lack of awareness of suitable tech tools
General resistance to adopting new technology

The solution: Set realistic expectations and SMART goals
With so many stated obstacles, it's not surprising that many educational institutions struggle to plan and execute projects effectively. But with a business mindset and a focus on best practices, better workflows are achievable.
First and foremost, consistent and meaningful communication must be normalized, as it is the foundation of project management. Institutions that define and develop effective channels among project stakeholders, such as administrative personnel, professors, and even students, keep information transparent and available, thereby making it easier to identify problems and bottlenecks early for faster resolution.
Along with communication, collaboration — working together to manage key tasks, from scheduling to financial planning — should be celebrated. Collaboration breeds understanding and agility. When stakeholders work collectively, workflows are more transparent, accountability is established, and the likeliness of success increases.
Most importantly, educational institutions should focus on setting SMART goals for each project to clearly define expectations. SMART goals are defined as:
Specific
Measurable
Attainable
Realistic
Time-bound
Once SMART goals are established, it's much easier to determine what data should be captured and analyzed, allowing for a better baseline and more accurate comparison of results to targets.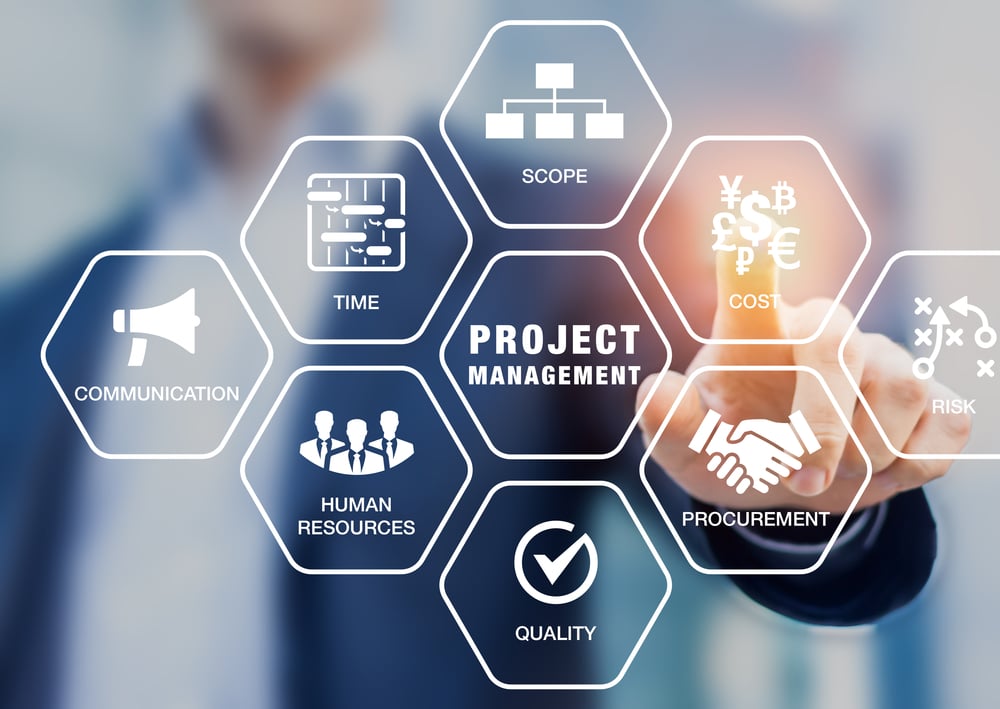 What should educational institutions look for in a PM tool?
The overburdened education sector is a prime candidate for project management technology, but not all tools and solutions are equal. The most favorable workflow management tools provide:
Efficiency to streamline workflows, not add tasks to the to-do list
Clarity and convenience with a user-friendly interface that is easy to learn and operate. Users should quickly understand why and how the tool is helping them, thus improving adoption.
Visibility and transparency so all stakeholders have full visibility into the information they need when they need it. This includes access to files, notes, attachments, and any other pertinent information.
Opportunity for communication and collaboration, enabling team members to work together and share information in a timely, structured fashion — bolstering accountability and reducing the need to micromanage.
Ability to prioritize tasks and next steps clearly and comprehensively, eliminating confusion in tasks, responsibilities, assignments, and deadlines.
Enhance workflow at your institution!
Project management best practices can make a world of difference at any educational institution, optimizing project efforts and fostering seamless collaboration. And with the right workflow tool in place, the results are tangible — saving time, money, and energy.
We have the solution.
As one of only six Smartsheet Aligned Platinum Solution Partners in the U.S., we've got the experience, expertise, and understanding of the educational sector needed to help you build project and workflow management processes that work for you.
An efficient workflow thrives on information. If greater visibility is what you need, the first step is to schedule a conversation on our new website at 10xviz.com!